Ref:
Date:
Location:
Photographer:
Ref:
Date:
Location:
Photographer:
USA - New York State........8th to 20th May 2021
Central Park, Jamaica Bay, Bear Mt. & Saratoga N.P.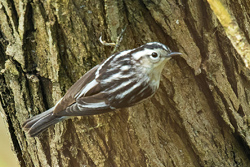 The mention of New York does not immediately bring to mind one of the top birding areas in the USA, perhaps the thinking behind that is a belief that New York is a top venue for sightseeing only. However, New York State is also a fantastic birdwatching region, including excellent sites not only in the City but also the whole state. Our May tour encompasses Central Park, Jamaica Bay and Bear Mountain State Park. There is also an optional extension to Washington County Grasslands and Saratoga National Park. Spring birding is absolutely top notch for migrants and breeding species in this extensive state, which lies in the centre of the "Atlantic Migration Flyway". Central Park is rated one of USA's premier birding sites, where Common resident species and regular spring visitors include Red-bellied Woodpecker, American Robin, Blue Jay, Swainson's Thrush, Scarlet Tanager, American Goldfinch and Northern Cardinal. In springtime, a top day in Central Park can produce 20 species of gorgeous American wood warblers, including Ovenbird, Blackburnian, Magnolia, Bay-breasted and Chestnut-sided Warblers. Exploration of Bear Mountain should reveal breeding Cerulean, Hooded & Golden-winged Warblers, Red-eyed Vireo, Baltimore Oriole, Pileated Woodpecker and Louisiana Waterthrush. At Jamaica Bay we should encounter breeding Ospreys, egrets, migrating shorebirds, terns and wildfowl. Our visit to Saratoga N.P. and Washington County Grasslands, will offer us the opportunity to discover species such as Barred Owl and Orchard Oriole, Northern Harrier, Eastern Meadowlark and Bobolink. We'll also enjoy an evening river cruise and experience an illuminated Manhattan and the Statue of Liberty!
Days 1-4: Fly to New York on Day 1. During our stay, numerous visits will be made to Central Park, where we should see Cardinal, Blue Jay, American Robin and Red-bellied Woodpecker, many warbler species and thrushes. A trip to Jamaica Bay should produce an array of wetland species. An evening Hudson River Cruise will be a highlight allowing us to witness the spectacle of an illuminated Statue of Liberty and Manhattan. A visit to 'Ground Zero, is also planned
Days 5-9: On Day 5 we'll travel up-state to explore Bear Mountain NP's wooded escarpment, which should produce an array of American wood warblers, including Cerulean, Worm-eating, Golden-winged & Hooded and also vireos, tanagers and orioles.
On Day 7 we'll transfer to Fort Edward for 3 Nights, visiting Washington County Grasslands and Saratoga N.P. As well as enjoying the impressive birdlife, we will also have a lecture and be shown a film on the famous Saratoga Battle, during the War of Independence. Warblers, vireos, flycatchers, Barred Owl, Scarlet Tanager, Pileated Woodpecker, Yellow-bellied Sapsucker, Northern Harrier, Eastern Meadowlark, Eastern Bluebird and Bobolink are amongst numerous species present.
Days 10-13: On Day10 we'll return to NY City for two more days of Central Park birding. On Day12 after a last visit to the park, we'll catch our flight back to the UK, where we arrive on Day 13.
Tour ref: AA2141

Cost: £4,895
Deposit: £700
Single Room Supplement: £TBA

Leaders: Gerry Griffiths & Peter Scholes

Max. Group: 10 plus 2 Leaders

Includes:
Economy class return scheduled flights (UK-New York-UK); en-suite accommodation based on twin occupancy; meals; transportation in New York and services of leaders

Excludes:
Travel insurance, ESTA, drinks and items of a personal nature.