Ref:
Date:
Location:
Photographer:
Ref:
Date:
Location:
Photographer:
Trinidad........ 27th November to 5th December 2021
The Asa Wright Experience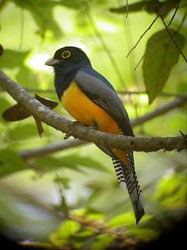 As a result of its proximity to South America, Trinidad boasts an impressive diversity of Neotropical bird species and can prove to be an excellent, but gentle, introduction to the colourful avifauna found in abundance on mainland South America. The world famous Asa Wright Nature Centre, situated deep in the Arima Valley rainforest, is justly renowned for its stunning location, fabulous bird life and excellent quality of service. Imagine sitting on the verandah as the rainforest awakes, sipping home-grown coffee and enjoying the various hummingbirds, tanagers, honeycreepers and motmots which seem ever present around the sugar feeders and fruit laden bird tables. The grounds around the Centre are full of birds and walks along the trails regularly produce exquisite birds like Tufted Coquette, Guianan Trogon, Purple Honeycreeper and White-bearded Manakins. Another Asa Wright gem is a visit to its famous Oilbird cave. Trinidad has several other excellent birding locations and at Nariva Swamp, Wallerfield, and Aripo Savanna we'll experience a host of wetland and lowland birdlife. In contrast, the Blanchisseuse Road provides forest birding at its best. At Caroni an afternoon boat trip amongst the mangrove swamps will reward us with the magical sight of vividly coloured Scarlet Ibises, as they fly in to roost. A tropical birding finale on a delightful Caribbean Island!
Day 1: We fly from UK to Trinidad and then transfer to Asa Wright Nature Centre.
Days 2 - 7: At Asa Wright, from the pleasant vantage point the verandah many birds can be viewed as they take advantage of the feeding stations. Over the next few days, we'll explore the Centre's excellent trails and other sites around Trinidad, to experience the wonderful array of Neotropic birdlife: trogons, woodcreepers, toucans, parrots, antbirds, honeycreepers, oropendolas, manakins and tanagers. During our stay we'll enjoy a number of field visits to the top birding sites which will cover a whole range of habitats
Overnights - Asa Wright Centre.
Days 8 - 9: We catch a flight from Trinidad to UK, where we arrive on the morning of Day 9.
Tour ref: AA2152

Cost:
£4,890
Deposit:
£700
Single Room Supplement:
£395
Leaders:
Gerry Griffiths + Local Guide
Max. Group:
12 plus Leaders
Includes:
Economy class scheduled return flights (UK-Port of Spain--UK), accommodation based on twin occupancy, all meals, ground transportation in Trinidad, entrance fees to parks and reserves and services of leader and guides.
Excludes:
Travel insurance, drinks and items of a personal nature.