Ref:
Date:
Location:
Photographer:
Ref:
Date:
Location:
Photographer:
Brazil........ 9th to 22nd July 2018
The Pantanal & Chapada Guimaraes
This tour is focused mainly on two of the richest habitats in the American continent, the Pantanal and the Cerrado. The Pantanal, the World's largest wetland, is one of the most immense, pristine and biologically rich environments on the planet. Its flora and fauna are extraordinarily diverse and include some highly sought-after bird species such as Hyacinth Macaw, Red-legged Seriema, Jabiru, Chestnut-bellied Guan, Blue-crowned Trogon, Crimson-crested Woodpecker, Purple-throated Euphonia, Orange-backed Troupial. and Sunbittern. Mammals include Jaguar, Giant Otter, Giant Anteater and Crab-eating Fox.
We'll stay at lodges/estancias (ranches) that will allow marvellous access to wildlife areas. We'll have several river cruises, with a great chance of seeing Jaguar and also Giant Otter, Tapir, Jabirus, Snail Kites, kingfishers, Skimmers, herons, and a host of other species. From the scrubby Cerrado of the Pantanal, we'll move to the forested riverine Cerradão, where the cliffs, waterfalls and strange rock formations of the Chapadas present a distinctly different habitat. The narrow true riverine forests following streams hold Helmeted Manakins, Dot-eared Coquette, Cinnamon-throated Hermit, Blue-winged and Red-shouldered Macaws.
Day 1: Overnight flight from UK to Sao Paulo, Brazil, followed by a domestic flight to Cuiaba.
Days 2 & 3: After arrival in Cuiabá, we will drive northwards to KM32 of the Transpantaneira Road. On Day 3 we spend a full day around Pouso Alegre. In the dry habitat there are good chances to find foxes, anteaters, and coatis. This is also a great spot for Hyancinth Macaws as well as many more species.
Days 4 - 6: On Day 4 we transfer to Porto Jofre for 3 Nights, an excellent hotel with marvellous grounds that attract a good variety of birds particularly around its lake shore. On Days 5 & 6 we take a boat trips on Cuiabá River looking for Jaguars, Tapirs, Giant Otters, Skimmers, several kingfisher species, Anhingas, Jabirus and a number of heron species.
Day 7 & 8: On Day 7 we transfer to Posada Piuval. The Lodge's grounds have a bounty of birdlife - hummingbirds, antbirds, tyrant flycatchers & tanagers. A boat trip on the lodge's lagoon will produce a superb collection of wetland Neotropical birds as well as scrub and forest birds.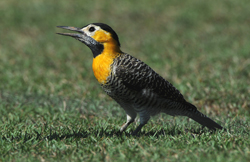 Days 9 - 11: We transfer to Chapada dos Guimarães National Park, with its distinctive habitat of waterfalls, rocky outcrops and gallery forest surrounded by Cerrado. The birdlife includes Blue-winged Macaws, Pheasant Cuckoo, Helmeted & Band-tailed Manakins, Curl-crested Jay, Crested Black-Tyrant, Blue Finch and White-banded Tanager.
Day 12: Transfer to Cuiaba for flight to Sao Paulo.
Days 13 & 14: Overnight flight to Sao Paulo and connecting flight to UK, where we arrive on Day 14.
Tour ref: AA1854

Cost:
£5,300 approx
Deposit:
£700
Single Room Supplement:
£475
Leader:
Ray Tipper
Max Group:
12 + 2 Leaders
Includes:
Economy class scheduled flights (UK-Cuiabá-UK), domestic flights, accommodation based on twin occupancy, all meals, ground transportation in Brazil, entrance fees to reserves and services of leaders.
Excludes:
Travel insurance, airport departure tax, drinks and items of a personal nature.