Ref:
Date:
Location:
Photographer:
Ref:
Date:
Location:
Photographer:
USA – Ohio & Michigan ........ 9th to 20th May 2021
Magee Marsh - Warbler Wonderland
Birding does not come much better than peak migration time on the southern shores of Lake Erie in Ohio. During the early and middle periods of May Magee Marsh and reserves close by, are a magnet for northward bound migrants, who are suddenly confronted with a long stretch of water. Warblers, vireos, thrushes, flycatchers, tanagers and buntings drop into the haven of Magee Marsh in their droves, to feed up before continuing their journey north. This is a jewel in the North American Birding crown and for anyone with a love of American Wood Warblers and a passion for migration at its very best, this is heaven! Morning at Magee is the best time for bird watching and normally at least twenty of these avian gems (warblers) can be found. There can be good numbers of fire-throated Blackburnians; gorgeous Cape Mays; flame-crested Ovenbirds and striking Black-throated Blues. Bay-breasted are usually present in their dozens but are often outnumbered by Magnolias. Prothonotary, Mourning, Cerulean, Blue-winged & Hooded Warblers, Louisiana Waterthrush and Yellow-breasted Chat are either present or pass through in smaller numbers. During one period in May 2009, 33 species of North American Wood Warblers were recorded. However, we must not overlook the fact that in spite of all the gorgeous warblers on view there are many other avian gems seeking attention. Philadelphia, Yellow-throated and Blue-headed Vireos, Yellow-bellied & Least Flycatchers, Veery, Grey-cheeked Thrush, Scarlet Tanager and both Yellow-billed and Black-billed Cuckoos are just a few of the species that can be encountered.
To add diversity to the species list, visits to Oak Openings Preserve with woods & grassland, Lake Erie shoreline & Causeway and Ottawa National Wildlife Refuge, should reveal a wealth of other birdlife, including many wetland species such as wildfowl, herons, rails and shorebirds. Also possible are Bald Eagle, Barred Owl, Red-headed Woodpecker, Brown Creeper, Eastern Bluebird, Black-capped Chickadee, Tufted Titmouse, Red-breasted Nuthatch and Bobolink .
To end the tour on a high note, we travel to Michigan in search of the rare Kirtland's Warbler, which has a very restricted range, with basically the whole population breeding only in this state. We will employ the services of a US Forestry Service Guide to present us with the best possible chance to see singing male Kirtland's on breeding territory.
This tour offers the best possible spring birding, with a full range of gorgeous American Wood Warblers to the fore!
Day 1: A morning flight from UK to Ohio. On arrival we will pick up our vehicle and transfer to our hotel. There should be time for a little pre-dinner bird watching.
Overnight – Port Clinton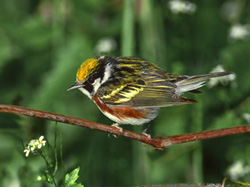 Days 2-6: These days will be spent birding the trails and boardwalk of Magee Marsh, Crane Creek the Lake Erie shoreline and other adjacent areas, including Ottawa National Wildlife Refuge and Black Swamp Bird Observatory.
A good proportion of the mornings will be spent within the Magee Marsh area as this will often be the prime time for discovering newly arrived migrants that are feeding-up before moving north across the lake. Magee's Boardwalk and trails provide excellent viewing and vantage points to observe not only the vast number of migrants passing through but also breeding species too. Wood Warblers are of course the big attraction and we shall hope to encounter around 30 species during our stay, including: Blue-winged, Golden-winged, Nashville, Tennessee, Yellow, Black-and-white, Chestnut-sided, Cape May, Prothonotary, Blackburnian, Bay-breasted, Black-throated Blue, Magnolia, Mourning, Canada, Hooded, Kentucky, Wilson's & Blackpoll Warblers, Ovenbird, Northern Parula, American Redstart, Northern Waterthrush and Yellow-breasted Chat. Connecticut & Cerulean Warblers occur in smaller numbers and are therefore more elusive.
Vireos are usually well represented and five species are regularly seen in spring – Philadelphia, Blue-headed, White-eyed, Red-eyed & Yellow-throated are all possible. A number of Tyrant Flycatcher species and members of the thrush family either pass through or breed, including: Eastern Kingbird, Eastern Phoebe, Great Crested, Least & Acadian Flycatchers,Veery, American Robin, Wood, Swainson's & Grey-cheeked Thrushes. Other species that are normally found along the Magee Boardwalk are: Virginia Rail, Sora, Black-billed & Yellow-billed Cuckoos, Downy Woodpecker, Cedar Waxwing, Ruby-throated Hummingbird, Marsh Wren, Orchard & Baltimore Orioles, Indigo Bunting, Scarlet Tanager and Rose-breasted Grosbeak. From the causeway and along the Lake Erie shoreline a number of water birds can be expected, which might include:
Pied-billed Grebe, Great Egret, Green Heron, American Coot, American Black Duck, Blue-winged Teal, Killdeer, Lesser Yellowlegs, Short-billed Dowitcher, Least Sandpiper, Bonaparte's Gull and Forster's Tern. There should also be an excellent selection of hirundines on view – Tree, Cliff & Northern Rough-winged Swallows and Purple Martin can be expected.
Overnights – Port Clinton
Day 7: After a last early morning look at birds at Magee, we'll drive to Tawas Point in Michigan. If time permits we will visit Tuttle Marsh.
Overnight – East Tawas, Michigan
Day 8: We will spend the day birding Tawas Point – a narrow peninsula which is excellent for migration and nearby Tuttle Marsh. The low lying vegetation allows good views of song birds and the sandy spit usually has a variety of shorebirds, gulls and terns, which could include Semipalmated Plover, Lesser Yellowlegs, Solitary, Spotted & Least Sandpipers, Bonaparte's & Ring-billed Gulls, Caspian, Forster's and Black Terns. On good days there can be a multitude of migrants including thrushes, flycatchers, vireos and warblers, which will surely remind us of our time at Magee Marsh. We will also make a return visit to Tuttle Marsh where we may see Green Heron, American Bittern, Sora and Virginia Rails.
Overnight – East Tawas, Michigan
Day 9: After some morning birding at Tawas, we will drive to Mio.
Day 10: During the morning we will concentrate our efforts on seeing the endangered Kirtland's Warbler. This will mean going to one of the special breeding sites, forestry areas with Jack Pine habitat, where we will have the aid of a U.S. Forest Service Guide. Michigan is now accepted as perhaps the only US State where Kirtland's Warblers breed, due in no small part, we are sure, to the restrictive and specifically required habitat type. Hopefully after having had close encounters with this special warbler we will visit a number of other locations where we will look for Least Bittern, Upland Sandpiper, American Woodcock, Yellow-bellied Sapsucker, Hermit Thrush, Golden-winged & Canada Warblers, Eastern Towhee and Vesper Sparrow.
Overnight – Mio
Day 11: After a morning's birding we will drive to Detroit Airport to catch our overnight return flight to the UK, arriving on Day 12.
Tour ref: AA2143

Cost:
£2,995
Deposit:
£400
Single Room Supplement:
£395
Leaders:
Neil Glenn as principal leader
Max. Group:
14 plus Leaders
Includes:
Scheduled economy class flights (UK - Ohio, Detroit - UK), en suite accommodation based on twin occupancy, meals, transportation in USA, reserve entrance fees and services of leaders.
Excludes:
Travel insurance, drinks and items of a personal nature.