Ref:
Date:
Location:
Photographer:
Ref:
Date:
Location:
Photographer:
USA - Texas ........ 21st to 31st March 2020
The Rio Grande & Central Coast in Early Spring
One of our longest-running birding destinations, Texas continues to delight and amaze us with its variety and sheer numbers of birds. We therefore have introduced a new tour to our programme - the Rio Grande Valley in Winter. The richest and most diverse biological area in North America is the 'Lower Rio Grande Valley' – a delta floodplain in South Texas, where ocean, river, neo-tropic and semi-desert meet, creating a unique environment, that supports an amazing array of fauna. The area has a number of wildlife refuges, world birding centres and reserves that provide a home to many bird species, some of which, can only be found in this part of the USA. The avifauna has a real Neotropical flavour and birds such as: Plain Chachalaca, Clay-coloured Thrush, Common Pauraque, Ringed Kingfisher, Golden-fronted Woodpecker, Great Kiskadee, Tropical Parula, Green Jay, Altamira Oriole and Olive Sparrow are true specialities of the area. Visits to reserves and wildlife refuges (NWR), such as: Santa Ana, Bentsen State Park, Sable Palm Audubon Centre & Sanctuary and Anzalduas County Park will give us many opportunities to observe this superb birdlife. Another wonderful location is Laguna Atascosa – a superb reserve, with an excellent range of habitats, including coastal lagoons. It also boasts resident Aplomado Falcons.
We will also venture further up the Rio Grande in search of Audubon's Oriole and Brown Jay and en route we will explore typical desert scrub for species such as Greater Roadrunner, Verdin, Black-tailed Gnatcatcher, Pyrrhuloxia and Cactus Wren.
Yet another highlight will be a two day visit to Rockport, situated in the Coastal Bend Region. A boat cruise into Aransas Bay looking for Whooping Cranes is certainly a wonderful experience and a host of other species will be observed on this trip.
If you've not been to Texas yet, or if you want to refresh your memory, come with us and see why we keep going back and why it is also a superb winter birding location!
Day 1: Scheduled flight from UK to Houston, Texas. We then drive the short distance to Conroe. There may be time for a little pre-dinner birding in W G Jones State Forest, where Blue Jay, Brown Thrasher, Pine Warbler, Northern Mockingbird, Northern Cardinal and Carolina Wren are among the possibilities.
Overnight - Conroe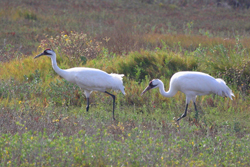 Days 2 & 3: The morning of Day 2 will be spent in W G Jones State Forest, which is excellent for woodpeckers, particularly Red-cockaded, Pileated & Red-bellied. The wealth of other bird species includes Eastern Bluebird, Northern Cardinal and Brown-headed Nuthatch. We then drive to Rockport on the Central Texas coast, where on Day 3 we will focus on the excellent coastal and wetland species and also raptors. At Connie Hagar Reserve, ducks should include Redheads, Canvasbacks and Buffleheads along with Roseate Spoonbills, a number of heron species and possibly Hooded Merganser. In the morning we will take a boat trip to Aransas NWR to experience the wealth of birdlife, looking in the marshy area and lagoons for Whooping Cranes & herons, and scanning the shingle islands for roosting terns, shorebirds and Black Skimmers. Other species we may encounter include: Common Loon, Eared Grebe, Reddish & Great Egrets, Tricoloured & Little Blue Herons, White Ibis, Blue-winged Teal, White-tailed Hawk, Crested Caracara, American Oystercatcher, Willet, Long-billed Curlew, Caspian & Forster's Terns, Bonaparte's & Franklin's Gulls, Seaside Sparrow and Belted Kingfisher.
Overnights - Rockport
Day 4: We drive to the Lower Rio Grande Valley visiting Aransas Bird Centre en route. This is a superb reserve, with a marvellous boardwalk through marshland and reed-beds. Birdlife is abundant, with a wide range of species present including Pied-billed Grebe, Roseate Spoonbill, Brown Pelican, American Bittern Little Blue & Tricoloured Herons, White Ibis, Black-bellied Whistling- Duck, Cinnamon, Green-winged & Blue-winged Teals, American Wigeon, American Avocet and Marsh Wren.
Overnight - McAllen
Days 5 - 8: During this period we visit several excellent reserves on the Rio Grande: Santa Ana NWR, Anzalduas County Park and Bentsen State Park all offer great birding. Here we shall look for Plain Chachalaca, Hook-billed Kite, Harris's & Grey Hawks, Golden-fronted Woodpecker, Green & Ringed Kingfishers, Long-billed Thrasher, Great Kiskadee, Altamira Oriole, Tropical Parula, Green Jay and Olive Sparrow. To the east of these reserves is Sable Palm Sanctuary, containing a 32-acre grove of native Sable Palms that holds many of the valley's specialities, including Inca & White-tipped Doves, Common Ground Dove, Common Pauraque, Ladder-backed Woodpecker and Black-crested Titmouse and is the best place in the region for rarities from Mexico and also for seeing Buff-bellied Hummingbird.
Two more wonderful sites are Laguna Atascosa NWR and South Padre Island. Laguna Atascosa supports a wealth of wetland species and from the bayside loop drive many waders and shorebirds should be encountered including: Reddish Egret, White-faced Ibis, Piping Plover, American Avocet, Western, Least & Stilt Sandpipers, Marbled Godwit and Long-billed Curlew. Amongst the scrub and Mesquite grasslands are: White-tailed Kite, Aplomado Falcon, Sandhill Crane, Short-eared Owl, Eastern Phoebe, Ash-throated Flycatcher, Blue-grey Gnatcatcher, Loggerhead Shrike, Vesper and Savannah Sparrows. South Padre is noted for several species of rails that occur there and all six possible species have been recorded, including: Clapper, King, Sora and Virginia. Travelling further along the Rio Grande, as far as Salineño, Chapeno & Falcon Dam, will give us the opportunity to see desert species: Greater Roadrunner, Cactus Wren, Curve-billed Thrasher, Verdin, Pyrrhuloxia and Black-throated Sparrow and in riverside scrub and at garden feeders, perhaps the elusive Audubon's Oriole and Brown Jay.
Overnights - McAllen
Day 9: After breakfast we drive to Rosenberg with stops for birdwatching en route.
Overnight - Rosenberg
Day 10: This morning our venue will be Brazos Bend State Park - an excellent way to end the tour. American Bittern, Great Egret, Little Blue Heron, Anhinga, Black-bellied Whistling Duck, Red-shouldered Hawk, Barred Owl, Carolina Wren, Swamp Sparrow and Cardinal as well as American Alligators all reside here. After an early picnic lunch we'll drive to Houston Airport for the return flight to UK, where we arrive on Day 11.
Tour ref: AA2043

Cost:
£2,675
Deposit:
£600
Single Room Supplement:
£210
Leaders:
Neil Glenn as principal leader
Max. Group:
14 plus 2 Leaders
Includes:
Economy class scheduled return flights (UK-Houston-UK), accommodation based on twin occupancy, all meals, ground transportation in Texas, entrance fees to reserves and services of leaders.
Excludes:
Travel insurance, drinks and items of a personal nature.