Ref:
Date:
Location:
Photographer:
Ref:
Date:
Location:
Photographer:
Slovenia........22nd to 29th May 2022
Discovering Green Slovenia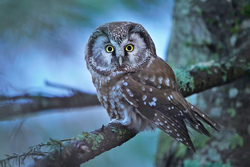 Slovenia is one of the smallest countries in Europe, located at the meeting point of the Alps, the Adriatic Sea and the Pannonian Plain. It has borders with Italy, Austria, Hungary and Croatia.
With a population of only about two million, it boasts vast forests, rich biodiversity and numerous protected areas and parks. According to the Good Country Index, it is among the most environmentally friendly countries in the world. Nearly 60% of the surface area is covered by forests. In addition there are numerous wetlands. In spite of the country's small size a remarkable number of bird species have been recorded and as many as 219 have been found breeding.
Our tour will include almost every part of the country – from the coast to the highest mountain peaks. We will enjoy wonderful scenery and some top class birding. Target species may take some time to find but we can be confident of an excellent bird list as well as interesting butterflies, reptiles and mammals. At this time of the year, the weather should be mostly warm and sunny.
Day 1 - Arrival - From Ljubljana Airport to Coastal Wetlands
From Ljubljana airport we will reach our first birding site in about an hour. We will visit all the coastal wetlands (Škocjanski zatok and saltpans) depending on the time we have and concentrate to see as much as possible. Target species will include Sardinian, Cetti's & Melodious Warblers, Zitting Cisticola, Black-winged Stilt, and Kentish Plover.
Overnight close to Koper.
Day 2 - Nanos mountain
If we miss some species from the coast we will try to get them in the morning. If not then we will visit Nanos mountain to see superb Rock Thrush. The rest of the day will be spend around that area and on the Karst (limestone plateau). There we will target species like Blue Rock Thrush, Rock Bunting, Short-toed Eagle, Red-rumped Swallow and more. Anything is possible including sometimes rare species such as Woodchat Shrike and Ortolan Bunting.
Overnight on the Karst.
Day 3 - Soca valley | Triglav National Park
In the morning we leave the Karst and head towards Soca valley and Triglav National Park. Soca is one of the nicest rivers in Slovenia and with some spectacular views. Here we will be trying to see some local birds such as Dippers, Crag Martins and Common Redstarts. After the valley we will head up to the Mangart mountain. There is a road going up to 2,055 metres above sea level. Target species will be Rock Ptarmigan, Snowfinch and Alpine Accenator.
Overnight close to Kranjska Gora.
Day 4 - Drive to Lake Cerknica
This morning we will drive for around one and a half hours to Lake Cerknica and its surroundings. Lake Cerknica is one of the largest intermittent lakes in Europe and the biggest in Slovenia when it is filled up. The lake itself is a unique place for flora and fauna. Some bird species have the only breeding place in whole country there like Common Rosefinch and Baillon's Crake. High densities of Sedge Warblers and Water Rails are also present. The surroundings of the lake are one of the best places for Corncrakes and Whinchats. Many Red-footed Falcons are migrating through. Black Storks and White-tailed Eagles are also not too hard to see here.
Overnight close to Cerknica.
Day 5 - Pohorje Plateau
We can stay a while by the lake if we have missed something. Otherwise our next destination is the Pohorje plateau near the second laregst city in Slovenia, Maribor. Target species will be Three-toed Woodpecker, Pygmy Owl, Nutcracker and Ring Ouzel. Some pristine forests and habitats are still present there so birding will be surrounded by stunning nature.
Overnight close to Rogla.
Day 6 - Fishponds and Lakes
This morning we will go down to the valley to visit some local fishponds and lakes. These are some of the best birding locations in the country and many endangered species like Ferruginous Duck, Little Crake and White-tailed Eagle breed there. Here we will concentrate on both land species and water birds of which many should be seen, including breeding birds and birds on migration.
Overnight close to Pragersko.
Day 7 - Head to The Toscaneque
Today we will head to the Toscanesque part of Slovenia where local wine is something you have to try. This is one of the best places to see breeding Hoopoes and Bee-eaters. Many Wrynecks, Common Redstarts and Golden Orioles are present in this wine country. Ormož lagoons is a bird reserve well known for its breeding Little Bitterns where many other water birds such as Savi's & River Warblers are also common.
Overnight close to Ormož.
Day 8 - Birding & Departure
On the last morning if there is time we can still try to find some local birds that we may have missed on previous days. After morning birding we head back to Ljubljana airport.
Tour ref: AA2208

Cost:
£2170
Deposit:
£400
Single Room Supplement:
£70
Leader:
Peter Dedicoat / Ray Tipper
Max Group:
6 + Leaders
Includes:
Economy class scheduled return flights (UK - Ljubljana - UK), accommodation based on twin occupancy, meals, transport in Slovenia & services of leaders.
Excludes:
Travel insurance, drinks & items of a personal nature.