Ref:
Date:
Location:
Photographer:
Ref:
Date:
Location:
Photographer:
UK - Isles of Scilly........ 8th to 14th October 2022
Birdwatcher's Mecca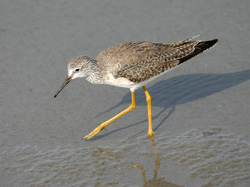 The Isles of Scilly are the most southerly point of the British Isles, located just 28 miles off Land's End. Consisting of five inhabited islands, the Scillies are a magnet to birdwatchers in October, because of their phenomenal record for rare and vagrant bird species turning up annually. The regularity of North American vagrants being recorded is quite amazing and unequalled by anywhere else in the UK. Pied-billed Grebe, American Golden Plover, Upland, Solitary & Semipalmated Sandpipers, Yellow-billed Cuckoo, Common Nighthawk, Yellow-bellied Sapsucker, Cliff Swallow, Hermit Thrush, Northern Parula, Bobolink and Scarlet Tanager are just some of the wondrous Trans-Atlantic migrants that have turned up on Scilly. However there is much more on offer than the occurrence of North American birds, for Autumn Migration normally brings an abundance of avian gems from Europe and Asia - Aquatic, Booted & Dusky Warblers, making Scilly the ideal location for a birding break. A variety of more common migrants are also an important feature in the ornithological calendar and in autumn there are usually good numbers of Blackcaps, Chiffchaffs, Firecrests and Goldcrests. Winter visitors too should be encountered and those delightful Northern thrushes – Redwings and Fieldfares are usually present in good size flocks, with smaller numbers of Lapland and Snow Buntings. An autumn 'Avian Adventure' to the Isles of Scilly – aptly named the "Isles of Dreams" by Bird Watching Magazine, offers great birding in a simply wonderful location. Our base on St Mary's is ideally situated for catching boats to other islands. We will attempt to find our own birds, but will also go for rarities when they turn up – without making it a mad twitch. The programme will also be determined by the weather and the appearance of vagrants and will be decided by the leader. Two boat trips to other islands are included in the price, which will be either: Tresco, St Agnes or St Martins. Other boat trips will be optional and paid for by participants.
Tour ref: AA2203
Cost:
£1,600
Deposit:
£300
Single Room Supplement:
£TBA
Leaders:
Neil Glenn as Principal Leader
Max. Group:
12 plus 2 Leaders
Includes:
Skybus return flights (Land's End-St.Marys-Land's End), two boat trips, accommodation based on twin occupancy, meals and services of leaders.
Excludes:
Travel to Land's End, travel insurance, drinks and items of a personal nature.