Ref:
Date:
Location:
Photographer:
Ref:
Date:
Location:
Photographer:
Greece - Lake Kerkini........17th to 24th April 2021
A Birdwatching Paradise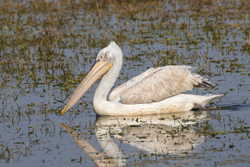 For Spring birdwatching in delightful surroundings, Northern Greece's Lake Kerkini is fantastic and not easily matched by other European venues. Lake Kerkini National Park is one of Greece's most important wetlands and arguably the number one birdwatching site. It is very accessible and offers birdwatchers first class viewing and great photographic opportunities. The Lake's importance is shown by its Ramsar status. Lake Kerkini and the surrounding environment is a super birding location all year. However, it perhaps has more to offer in Spring, as it is located on a major migration flyway route and also features a superb array of breeding species. The lake is surrounded by woodlands and the mountains of Kerkini and Mavrovouni. The diversity of bird species is quite amazing with Dalmation & White Pelicans, Pygmy Cormorant, Little Bittern, Great Egret, and Spoonbill breeding on the lake. Lesser Spotted, Booted & Short-toed Eagles, Levant Sparrowhawk, Eleonora's Falcon, Stone Curlew, Black & Grey-headed Woodpeckers, Bee-eater, Roller, Hoopoe, Masked Shrike, Golden Oriole, Eastern Subalpine & Eastern Orphean Warblers, Black-eared Wheatear and numerous other species are spring residents of the surrounding habitats.
Days 1 - 8: A direct flight from UK to Thessaloniki, followed by drive to our hotel near Lake Kerkini. During our stay we'll explore Lake Kerkini's prime birding sites, which not only includes the lake, but also local marshes, the lake foreshore, woodland, foothills and mountains. There will also be one or even two boat trips on the lake, allowing us close encounters with the breeding wetland birdlife. Overnights – Lake Kerkini
On Day 8 we'll drive to the airport to catch our return flight to the UK.
Tour ref: AA2101

Cost:
£1,675
Deposit:
£400
Single Room Supplement:
£145
Leaders:
Mladen Vasilev & Neil Glenn
Max Group:
10 + Leaders
Includes:
Economy class direct flights (UK-Thessaloniki-UK); accommodation based on twin occupancy; meals; transportation in Greece and services of leaders.
Excludes:
Travel insurance, drinks & items of a personal nature.